PR Treasury announces Tax Administration Measures due to the Impact of Hurricane Fiona on the Island
On September 27, 2022, the Puerto Rico Department of Treasury ("PRDT") released Administrative Determination No. 22-08 ("DA") to establish tax relief measures for taxpayers affected by the aftermath of Hurricane Fiona ("Hurricane)" in Puerto Rico.
The PRDT anticipates the challenges taxpayers may face in complying with their tax responsibilities due to interruptions in essential services such as electric power and internet that were caused by the Hurricane. As a result, the PRDT Secretary is exercising its power as vested by the 2011 Puerto Rico Internal Revenue Code, as amended ("the Code") to extend deadlines for payments of tax as well as the fillings of any returns or statements.
The PRDT emphasizes that at the moment, all the services provided by the platform SURI are operating normally. Those taxpayers that are able can make tax debt payments, request automatic payment plans, and request certifications, among others.
We have summarized below the key points and important dates of the tax administration measures implemented by the PRDT to grant taxpayers relief while they recover from the consequences of the Hurricane.
The following table portrays tax filings that were extended by the PRDT, along with the original and extended deadlines: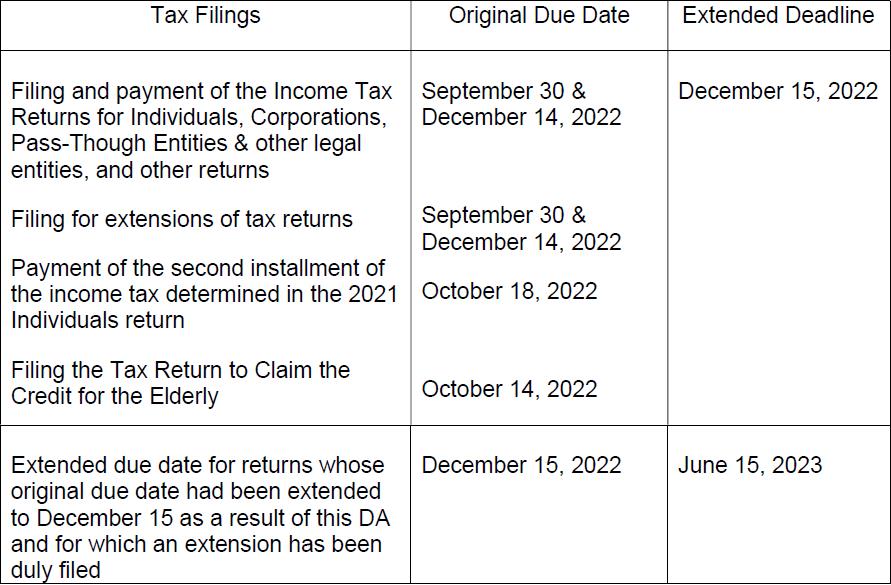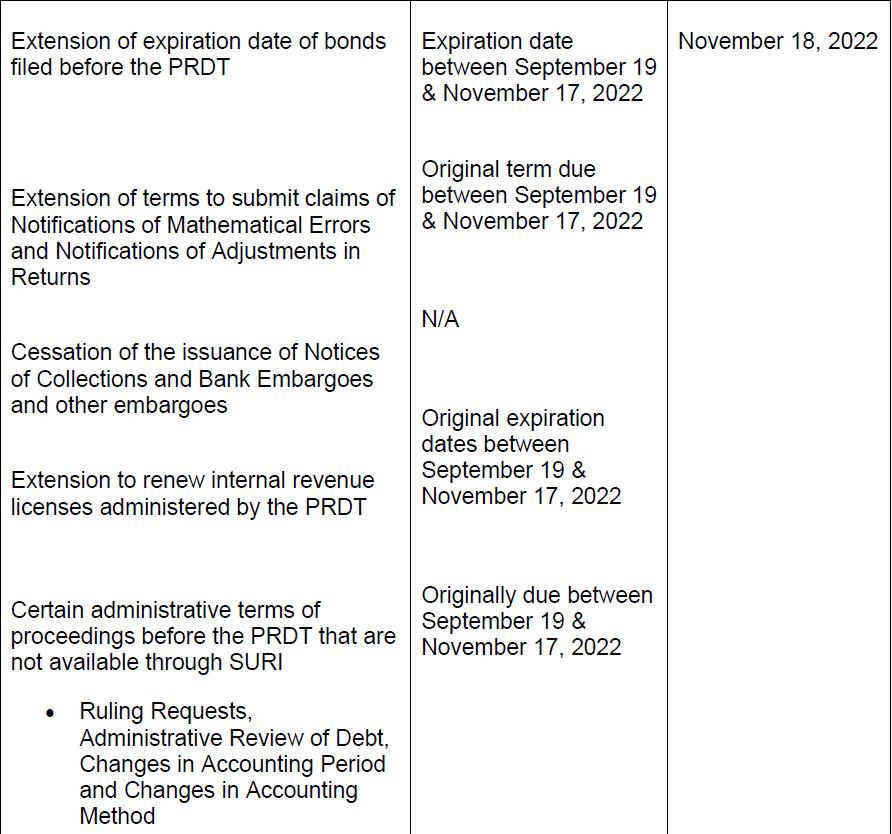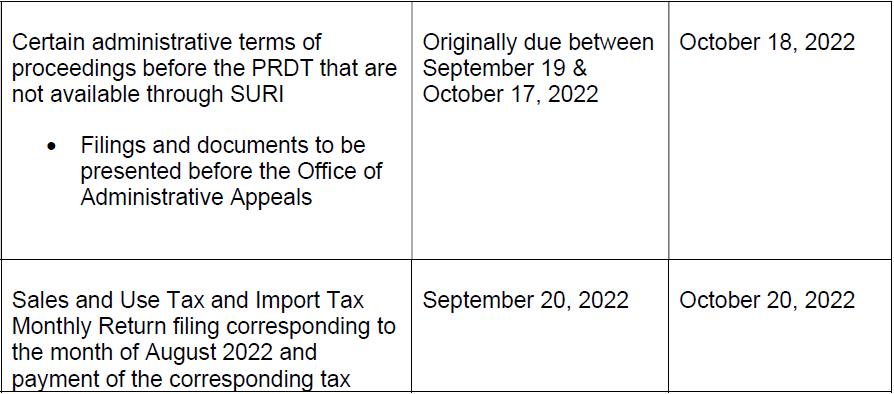 Other measures available to taxpayers:
Request for tax payment plans– Taxpayers who have been economically affected by the Hurricane and are current on their payment plan may enter a new payment plan through SURI or by visiting the Collection's Office of the PRDT before December 31, 2022, if they are unable to meet an installment of their current plan due to the Hurricane.
Automatic Grant of a Temporary Exempt Certificate to merchants with valid Reseller Certificates to exempt them from Sales and Use Tax (SUT) on any imports of taxable items for resale for the month of October 2022
Allowance of special distributions from retirement plans and Individual Retirement Accounts (IRAs) due to Disaster Declared by the Governor of Puerto Rico from October 6, 2022, until December 31, 2022
Activation of qualified payments made by the employer to its employees or contractors for help to overcome disasters. The period of time during which these qualified payments will be allowed to be excluded from the recipient's gross income will be from September 19, 2022, to December 31, 2022
Activation of the provisions that exclude from gross income loans to employees or independent contractors to cope with a Declared Disaster. The period of time for granting these qualified payments will be from September 19, 2022, to December 31, 2022
We are committed to keeping you up to date with all tax-related developments. Please contact our Tax Department should additional information be required regarding this or any other tax issue. We will be glad to assist you.
PR Treasury announces Tax Administration Measures due to the Impact of Hurricane Fiona on the Island
Download PDF [234 kb]