The smart approach to intelligent automation
As organizations streamline and adapt, the once-distant promise of business automation is delivering real results and defining tomorrow's top competitors.
Automation has helped solve problems that are common to companies around the world. To build a business case for intelligent automation, achieve the right benefits and skip the standard mistakes, you need to start with an understanding of the benefits.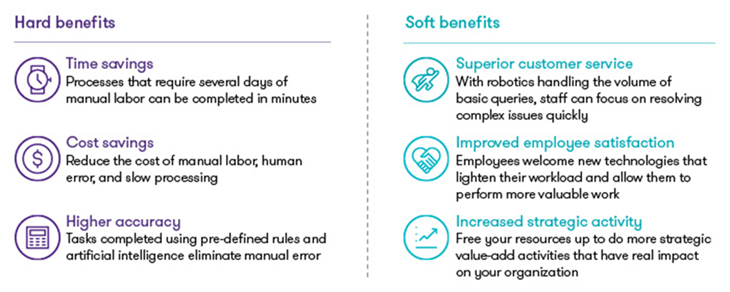 By understanding the potential benefits, a company can form a lens through which it can spot ineffective processes and systems. But the biggest possible benefits for your organization will depend on the unique nature of your processes and pain points, including the requirements and dependencies that surround them. To consider where automation can provide the biggest benefits for you, conduct a clear self-assessment. To find the answer, you need to understand the unique characteristics of your processes. Use an assessment tool to evaluate each process, so that you can identify and rank which processes are likely to yield the best and fastest return on automation.
Map tasks to the automation spectrum
Data is the fuel for these technologies, and you will need to be realistic about whether you have the data to drive the solution you choose.
To accelerate the process of finding and implementing successful automation, you need a controlled approach that spans the stakeholders within your organization.
The intelligent automation spectrum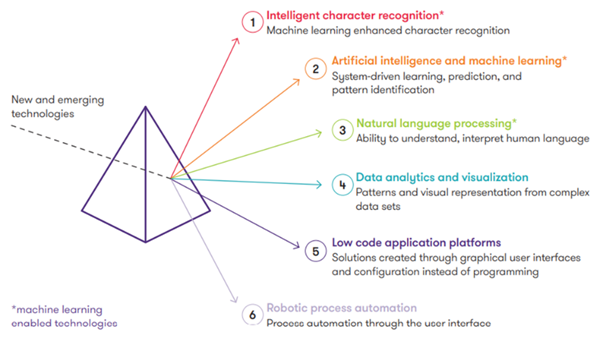 Intelligent automation has become a new competitive requirement – no longer the realm of forward-thinking early adopters, it is increasingly a proven part of effective operations. It includes a spectrum of capabilities that can help meet pressing business needs and provide real financial returns for almost every business. The potential for success and returns has been proven, but businesses need to be both controlled and visionary as they approach their intelligent automation journey today. Today's mounting competitive pressures can quickly push organizations into the pitfalls of the past, so it's increasingly important to target the potential of automation with an up-to-date understanding, self-assessment and controlled approach that can help ensure and expand upon your unique factors for success.
Grant Thornton library articles:
The smart approach to intelligent automation (grantthornton.com)
We are committed to keep you updated of all developments that may affect the way you do business in Puerto Rico. Please contact us for assistance in relation to this or any other matter, we will be glad to assist you.