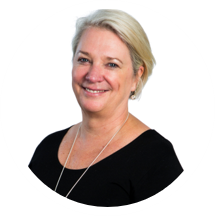 Grant Thornton International's Kim Schmidt, co-lead of our Women in business reporting, outlines why culture change and number crunching are at the heart of achieving gender parity in any organisation.
Q: Can you outline the business case for gender diversity and why it's necessary for the businesses of the future to broaden their gender balance within senior management?
There's a huge amount of research that demonstrates a strong connection between diversity at a leadership level and business results. There are a number of factors which need to be in place to ensure that you do have real diversity at the leadership table: and those factors impact the business performance.
We are living in an environment where there is so much complexity and so much volatility: leaders need to navigate that and can't do it on their own. They need an organisation that is very responsive to what's happening, and also innovative. And what we know is that there is a direct link between the ability of an organisation to innovate and diversity.
As organisations, to survive and thrive in this environment, we need to have an innovative culture and an innovative environment, and diversity is essential for that: and you can't have any level of diversity if you don't have gender diversity.
Another factor in the business case is the war for talent: how do you get the best people to come and join your organisation? An increasing number of young, talented people do not want to work in an environment that is not inclusive and is not diverse. They want an environment where there is innovation, where there is an opportunity to contribute at a high level and make a difference. You can't create that kind of environment by having a homogeneous population.
Q: Does Grant Thornton International recognise an internal need for a more diverse workforce?
Increasingly, our clients are saying, "We expect you to bring your best people to the table, and they will need to reflect our view of what that looks like." Our clients want us to solve complex problems that need innovative thinking. In order to do that, we need to be able to put a diverse team in front of them, and we have an increasing number of clients that just won't deal with us if we can't.
At the beginning of 2018, when we brought in a new CEO and new leadership team for the global organisation, we looked at our strategy, and what we had achieved in this space. We, like thousands of other organisations, had just not progressed. With our global report in 2017, we saw that we were a perfect reflection of what was happening in the external market.
For someone who's been in the space for a long time, it was soul-destroying to see that all the efforts, all the energy, all the initiatives had resulted in glacially-slow progress. We had to take a very different approach. We started having challenging, transparent conversations with our member firm CEOs. To transform our organisation, we need a culture where all levels and all types of diversity can thrive. In order to create that, you need a very inclusive culture, where risk taking and innovation – and failure – are accepted.
Q: What concrete action is Grant Thornton taking to develop a new culture?
I've being working with clients on organisational culture change for many years. It is one of the hardest things you can do, because you are not asking one person to change their behaviour, you are trying to get a whole organisation to change their mindset.
For us, as a network of accounting firms, whose predominant service line is audit and risk control, to shift from a strong culture of risk aversion to a more innovative culture is harder, even increasing the number of females in a partnership. But what we believe now is that if we are able to deliver a more gender equal partnership, the culture will change. It's a chicken and egg scenario. If we drive to get more gender equality at a partner level, the culture change will come automatically.
Q: How are you going to achieve that gender equality at partner level?
Our thinking has evolved: now we'll start at the top, targeting every leadership team. Our key focus in the last 12 months has been driving the business case around innovation to get them to buy into the belief that this is something they need to own. Every global program that we have targeting upcoming leadership and talent, we have had these conversations.
Now we have a network of CEOs going, "We're inspired, we want to do this, but we don't know how." So we are putting in place opportunities to bring together leaders to talk about what the successes have been, where we can be more successful, and to work together across the organisation to build momentum.
We are being very deliberate in ensuring that all of our global leadership programs have a substantial proportion of female attendees. We are doing affirmative target setting because if we don't set targets, we will not move the needle as quickly as we need to. If we rely on osmosis, nothing will change.
Q: How do you get more women into leadership programmes?
Traditionally, we've used the formula that has been successful for men: now we are actively looking for the talent in different ways to ensure that we've got the right percentage of women coming through. It might be different for different levels, it might be different in different regions.
If we said to firms in the Middle East, for example, "These are the things that you've got to do to drive an inclusive environment," we're fighting against thousands of years of culture. Nonetheless, two of our Middle Eastern firms have appointed their first female partner in the last six months and that has been by having continuous conversations with those CEOs.
Q: Why is it important for a business to understand where it is in this space before they take any action?
If you don't know what your starting position is, how are you going to measure where you're been successful? You need to know not just where you are in female representation, but where the roadblocks for women are in your firm.
You've got to understand what's going on in your environment. One of the ways to do that is through data. Who's coming into your organisation? How long are they staying? Why are they leaving? How long are they taking to be promoted? Are we having women at all stages of their career progress successfully? As soon as you open up a different conversation in a safe environment, you will hear about what is stopping females from progressing.
Read our Women in business report Return to Champions home page