How well a business accomplishes sustained growth is dependent on a strategy that defines and directs investments and activities — and how well it engages employees in the strategy development process.
This is the overall message from a survey of middle-market companies by the National Center for the Middle Market (NCMM), which Grant Thornton sponsors. Respondents were primarily privately held businesses. The average middle-market company attributes 15% of its growth to the strategy it employs. Unsurprisingly, revenue growth is a priority within the strategy of the vast majority of these companies.
An analysis of NCMM's findings reveals three components of a superior growth strategy and underscores their interdependency:
a well-defined strategydescribes to the company's market(s), its products or services, and the qualities and activities that differentiate it. Strategy incorporates input provided by stakeholders during the development process.
a productive processof defining and developing the strategy is the result of executives responding to market and industry trends and conditions and seeking ideas from across the organization.
effective execution adheres to strategy directives to feed growth and inform strategy definition and development.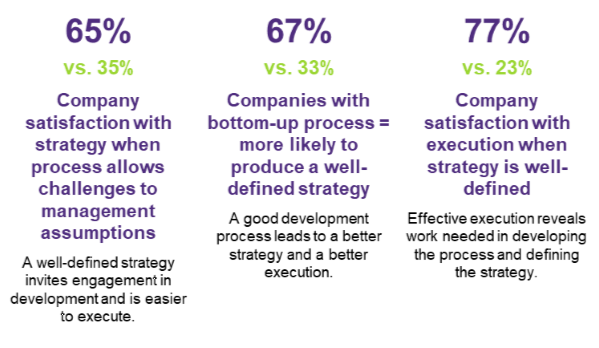 A well-defined strategy leads to faster growth
Companies with well-defined strategies report year-over-year revenue growth 26% higher than that of companies with less-defined strategies. When these companies can articulate the value they offer, they grow even faster — twice as fast as companies that can't clearly speak to their value proposition. High-growth companies make use of a strategy development team. They invite input from outside sources and employees at all levels, ensuring an opportunity to question management's assumptions and plans, and staying informed on current industry trends and best practices.
Execution relies on an engaging development process that clearly defines the strategy
Companies invested in a clearly defined strategy with an inclusive strategy development process are much more successful at delivering on the strategies they develop. Those that are most satisfied with execution keep employees connected with the plan and align goals, key performance indicators and incentives with strategy. They understand that strategy is not one-and-done; it's part of daily work.
Year over year growth rates and stats for high growth vs. slower growth firms

As you assess your strategy, process and execution for improvement, consider the following essential points.
8 questions about strategy
can we clearly and concisely state what our strategy is?
foes our strategy leverage the same set of capabilities across all lines of business?
have we staked out a unique value proposition and identified the customers for which it is highly relevant?
is our strategy ambitious, or does it allow us to coast?
have we developed a tailored value chain?
does our strategy express a clear understanding of the resource (capital, intellectual capital and other) that we possess and need, and set priorities for investment, resource allocation and hiring?
does our strategy take into account competitor action and reaction?
does our strategy help us say no?
7 questions about process
do we have a well-defined strategic planning process?
are people specifically assigned to a team with strategic responsibility?
does our strategy take into account economic, industry and other trends?
does our process seek bottom-up input?
does our process include specific ways to challenge management's ideas and assumptions?
do we review our strategy regularly?
are we keeping up with the best ideas about strategy and management?
6 questions about execution
do we communicate our strategy fully and frequently with employees?
is our budget process aligned with strategy?
have we translated strategy into action plans for each line of business and function?
do we create key performance indicators to track progress toward goals?
can every employee say how he or she contributes to the company's strategic plan?
do incentives and bonuses support strategic goals?
Information is gleaned from the NCMM's Strategic Planning for Growth; How Middle Market Companies Map Their Futures report, an analysis of a 2018 survey of financial decision-makers from middle-market businesses across a range of industries and geographies. Grant Thornton is a sponsor of NCMM.